Hotel & Hospitality Cleaning
Corporate Clean Property Services provides competitive, professional cleaning and housekeeping services to numerous 3 to 5 star hotels and apartments across South Australia.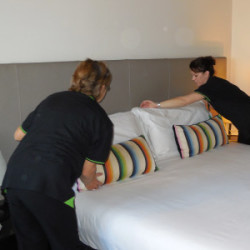 Professional Cleaning as a Business Solution
As cleaning is our core business, many of our clientele have realised that their business can be better maintained using the skills and knowledge of a professional cleaning company with many years of experience. They have found that efficiencies are greatly improved as professional cleaning methods are implemented and specialist equipment is engaged. Good systems and procedures that have been developed over many years also help us provide you with an effective and cost efficient service.
We will tailor a solution to your needs; this might include the day-to-day cleaning of rooms (general and detailed cleaning), carpets, windows, curtains, upholstery, tables, bar areas, kitchens, hard floor care, and more (including such items as completing housekeeping reports, ordering of consumables, and laundry requirements).
Give Your Guests The Best Experience Possible
Most hotels have a self rating system which relies heavily on the cleanliness of the facilities and this can have a direct impact on the bottom line; guest will simply not return if they feel the place is not clean. Worse they can do enormous damage via the internet by complaining publicly.
We realise that it is a daily task keeping hygiene under control and this requires cleaning staff that are thoroughly trained in the needs and requirements of the hospitality industry. All of our staff are fully trained, security checked and screened to ensure that you have a team working for you that is reliable, efficient, and thorough with good attention to detail.